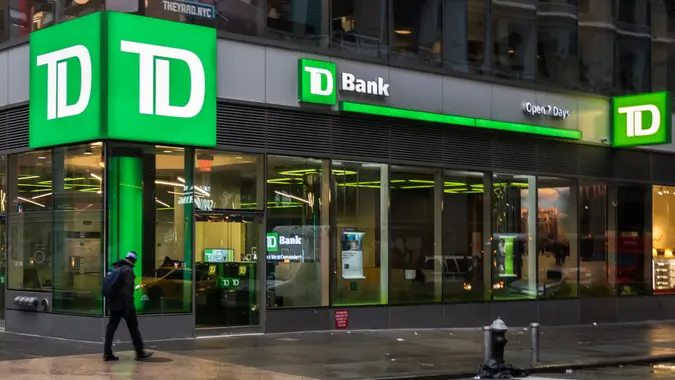 About TD Bank
TD Bank provides extended customer service hours as well as simple online banking. Are these benefits worthwhile?
Discover what makes TD Bank an excellent alternative for you and some reasons to look at other options. Because of their extended hours, TD Bank bills itself as "America's Most Convenient Bank."
TD Bank has approximately 1,300 branches across the East Coast, from Maine to Florida. They also serve clients all over the country with their 24/7 customer service and online account access. Continue reading to learn more about your TD Bank banking options.
Which Services does TD Bank Provide?
TD Bank provides a wide range of banking services, including Savings, Checking, and CDs. For those looking to invest, they also have CDs and IRAs. The bank is fee-heavy, and signing up for direct deposit does not waive the fee.
A minimum average balance is required for checking and savings accounts, or you will be charged a monthly fee. TD offers higher-than-average interest rates on checking and savings accounts in exchange for its unique fee structure.
Saving Accounts
Here's a quick overview of their three savings accounts: Simple savings, Preferred savings, and Growth money market.
Simple Savings:
As the name implies, this savings account keeps things simple by offering a single interest rate rather than tiers of interest rates. A small monthly fee can be waived for those under the age of 18 or over the age of 62. You can also avoid it if you maintain a $300 minimum daily balance.
Preferred Savings:
If you have more money to save, a Preferred Savings Account will allow you to earn more interest. The increased interest rate, the more money you have in your account. However, you must have at least $20,000 in your account to waive the monthly fee.
Growth Money Market:
This is a savings account that allows you to write checks. You can write up to six monthly checks and use the free bill payment service.
Checking Accounts
TD Bank also provides a variety of checking accounts, including three popular options: Simple, Convenience, and Beyond Checking.
Simple Checking-
If you dislike maintaining minimum balance requirements, Simple Checking may be a good option for you. Your money will not earn interest, but you will only be charged a small monthly fee. However, you will not have to deal with minimum opening deposits or account balances.
Convenience Checking-
Convenience Checking may be worthwhile if you maintain a minimum daily balance of $100 in your checking account. You can avoid the monthly charges with a $100 balance, or if the primary account holder is between 17 and 23. You will not earn interest on this checking account. However, you can obtain the account for free.
Beyond Checking-
You can earn interest if you have sufficient funds in your checking account. To waive the monthly fee, you must have a $2,500 minimum daily balance, $5,000 in direct deposits, or a combined balance of $25,000 across eligible TD accounts.
If you maintain a minimum balance of $2,500, you may be eligible for reimbursement of non-TD ATM fees.
If you are interested in saving money for future needs, such as retirement, TD Bank offers a type of CD and IRA account. The accounts have multi-tiered interest rates and no monthly expenses to help you accumulate the most out of your investment.
Reasons to Like TD Bank
You may access a customer support agent 24 hours a day, seven days a week. Even if you're banking late at night, you may call TD Bank and press 0 to talk with a customer care representative. Use this hotline to ask inquiries, fix issues, or even open an account. In comparison to other banks, TD Bank has some of the most prolonged hours at its physical branches. During the week, they work "extra hours."
TIP: Put off your banking until you have a day off. TD Bank is open on Sundays and holidays. A free checking account is available. You can forget the fees on the Convenience Checking account if you have at least $100 in your checking account every time.
You'll also get free mobile deposit, banking, and online bill pay. With relatively low balance criteria, you can get your monthly fees removed. Except for the Preferred Savings Account, you can obtain your monthly fees eliminated with an average balance of $100 to $2,500.
You can waive your monthly fees if you have a relatively low balance. Except for the Preferred Savings Account, you can avoid monthly fees by maintaining an average balance of $100 to $2,500. Students can obtain free checking or savings accounts. Are you between 17 and 23, and can you demonstrate that you are an engaged student?
You can then open a fee-free Student Checking or Savings account. You will still have online and mobile banking access, allowing you to bank wherever you are. You can utilize the TD Digital Wallet to pay anywhere that accepts digital payments.
Link your TD Bank Visa to your digital wallet and utilize it to spend at any merchant or restaurant that accepts Apple Pay, Samsung Pay, Google Play, and Visa Checkout. Email alerts are available. You can configure a low-balance alarm. This may help you avoid overdraft charges. You can also set up notifications for high-balance situations.
This notifies you when you've met your savings target. You can then move on to the subsequent tiered checking or savings account to earn maximum interest. You can readily open an account online. Opening your account only takes some time and some personal information.
Once funded, either in person or via electronic transfer, you will start gaining interest. TD Bank provides a comprehensive range of financial services, including mortgage loans, personal loans, and credit cards. You can keep your deposit, investment, and loan accounts in one spot.
Reasons to Look Elsewhere
Most checking and savings accounts have a monthly fee. Fees ranging from $5 to $25 per month can increase for a year. Many accounts allow you to waive fees with very low minimum balance restrictions. If you don't live on the East Coast, you may get considerably higher interest rates through internet-only banks.
TD Bank has overhead to manage, limiting the interest it can offer its online consumers. You'll be charged a fee for operating non-TD ATMs unless you have a Beyond Checking account, which requires a $2,500 minimum balance. The ATM fees can add up if you don't keep that much money in your checking account.
Bottom Line
If you live on the East Coast and are close to a TD Bank location, you may take advantage of the various benefits that bank accounts provide, including flexible hours of operation.
Even if you don't live on the East Coast, you can use their internet banking services anywhere in the country. However, because they offer more than just an online bank, you may discover better interest rates elsewhere.